News
Making applying for jobs with the Royal Devon easier
28 Jul 2022
We have been looking at ways to improve our recruitment process for people who are interested in working at the Royal Devon, and are excited to launch our new recruitment system, the Career Gateway.
Key features of the Career Gateway will make it easier for you to find and apply for a job at the Royal Devon. In addition:
you can create a profile at any time, making it easier to apply for jobs when that perfect career opportunity is advertised
You can receive alerts for vacancies and let us know if you're happy for us to approach you if we think we have a suitable role that matches your skillset
Simply search for roles on the www.jobs.nhs.uk website or on our Career Gateway at vacancies.royaldevon.nhs.uk, and you'll be taken through to our new system to apply for the role – visit it now to create a profile on the Career Gateway.
For more information about a career at the Royal Devon, visit royaldevon.nhs.uk/join-us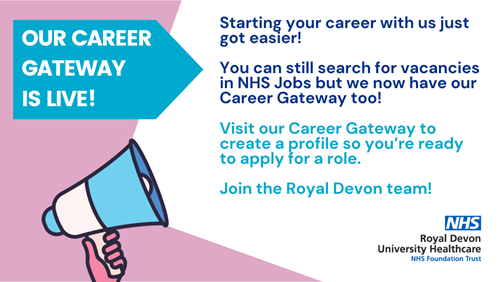 Close